Endodontic treatment
Often, when there is dental decay in a tooth or a strong cavity has been created, or even in cases where a fracture or injury has been created, germs (soft tissue inside the tooth, nerve and blood vessels) can enter and penetrate into the tooth pulp.
Then, the tooth hurts intensely, especially when chewing or when in contact with hot or cold foods and drinks, due to the inflammation inside.
In this case, in order to keep the tooth in the dental block, endodontic treatment (also known as denervation) is necessary as the medication is only for temporary suppression. Without treatment, the inflammation will spread, the bone around the tooth will be damaged and the tooth may be lost.
The dentist, with the appropriate equipment (special tools, magnifying glasses and a microscope) will carefully remove all the pulp and clean the inside of the tooth. Endodontic treatment can be completed in one session, but up to three may be needed, depending on the extent of the inflammation and the tooth.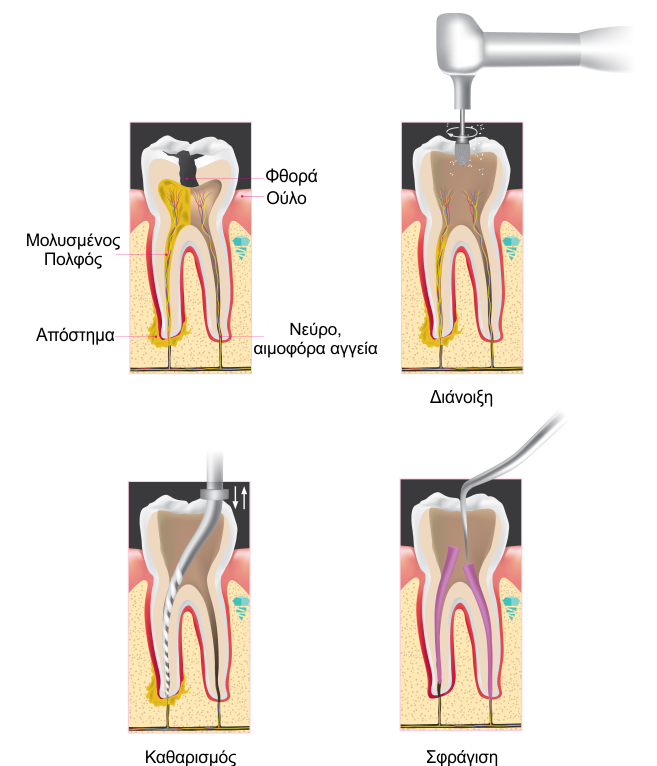 Then, depending on the type of tooth and the extent of the damage, the dentist will complete the treatment with the appropriate occlusion, reconstruction with an endodontic shaft or placement of a crown (case) to ensure the preservation of the tooth and its strength.